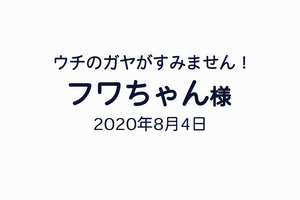 [I'm sorry for my gaya! ] Production cooperation
Fuwa-chan tries to change her face!
★I'm sorry for my gaya! [Dangerous face accusation! Love Confession Astonishing Auction Super Luxury SP]
August 4, 2020 (Tuesday) 21:00-22:54 (excluding some areas)
★ Nippon TV affiliated national broadcast

Chugoku Henmen Store
・Costume provided
・Supervised face-changing acting
.  
The costumes used in the program are here!
Custom-made masks for use in the program here!


*****

Thank you very much for taking up the face-changing like this.
Thank you from the bottom of my heart to Fuwa-chan, the program staff, and the viewers.

We will do our best to increase the number of people who enjoy changing faces in Japan.
Thank you very much.
Chinese face shop
What is a face change?
300 years ago, it was born in Sichuan, China.
The moment the masker puts his hand or a folding fan over his face, the eyelids (masks) change one after another . How the mask is changed is considered a "secret" .
It is a performance that fascinates the audience and makes everyone feel strange.
■You too can be a masker!
We at China Transformation Store are working under the motto of
for everyone in Japan to enjoy Transformation using our proprietary technology. increase.
・ Sales of face-changing goods
・ Business trip face-changing show
・TV production cooperation (Nogizaka46 Saito Asuka/Fuwa-chan, etc.)
We are doing
.
If you are interested in the face change,
feel free to contact us!
Related article
[Nogizaka under construction] Television production cooperation
---