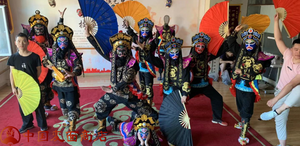 Introduction of our affiliation masker
28 years of changing faces
Mr. Jiang
Born in Taiyuan, Shanxi Province, China, age 28
With his father as his teacher, he has been practicing mask changing since childhood.
To this day, there is not a single day in my life when I haven't touched a strange face.

I've come into contact with strange faces every day, and I've been deeply interested in them, and I've been doing research every day. Based on the traditional Chinese mask transformation, we have created many original techniques by making use of our many years of performing arts experience. I have a record that I can do 5 times with just a round face.

In addition, he is one of the leading face-changing artists in China today with many creative techniques.
You can make your own costumes, hats, shoes, and props by changing the design of the traditional mask costume to make it more rational.

His face-changing movements are also based on folding fan kung fu, and he creates beautiful and lively movements.

In the face-changing instruction, he has a unique method and is supported by many disciples.
▲ Jiang's disciples
▲Mr. Jiang's past performance
It is a powerful face-changing show that incorporates kung fu.
▲Mr. Rerue smiles during instruction. It's very tough sometimes. He is a loving teacher.
Related article
Various plans for face-changing instruction can be found here !
Click here for about special face-changing techniques!
See an example of acting instruction (Fuwa-chan) here !
We are looking for maskers at the Chinese mask store! Click here for details!
---